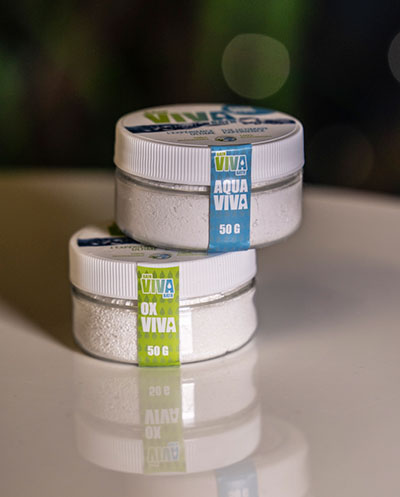 Viva Bath Solution from Safia Derma™
For healthy skin, the pH of our skin must remain stable at 5.5 to ensure the proper functioning of the skin ecosystem, cell renewal and hydration of the skin.
• Municipal guaranteed drinking water is generally chemically treated with aluminum salt and / or chlorine. This gives water with a pH of 6.5 to 8.5.
• Does your body absorb up to 15% of chemicals when you bathe?
• These impurities exist in tap water (contaminants).
• The use of soaps, essential oils, salts and other products does not necessarily contribute to the well-being of your skin.
Benefits of Viva Bath Solution
Bain Viva ™ products transform your bath into revitalizing, crystal-clear spring water by ridding the water of contaminants and metals. This process occurs by oxygenating the water through a simple and natural process:
• OxViva, (new) Hydrogen peroxide powder
• AquaViva, Energized colloidal quartz powder (organic silica).
• Hydrate and oxygenate your skin thanks to the healthy components of BAIN VIVA ™.
These ingredients penetrate the pores and flush toxins from your body, leaving your skin feeling silky, smooth and firm.